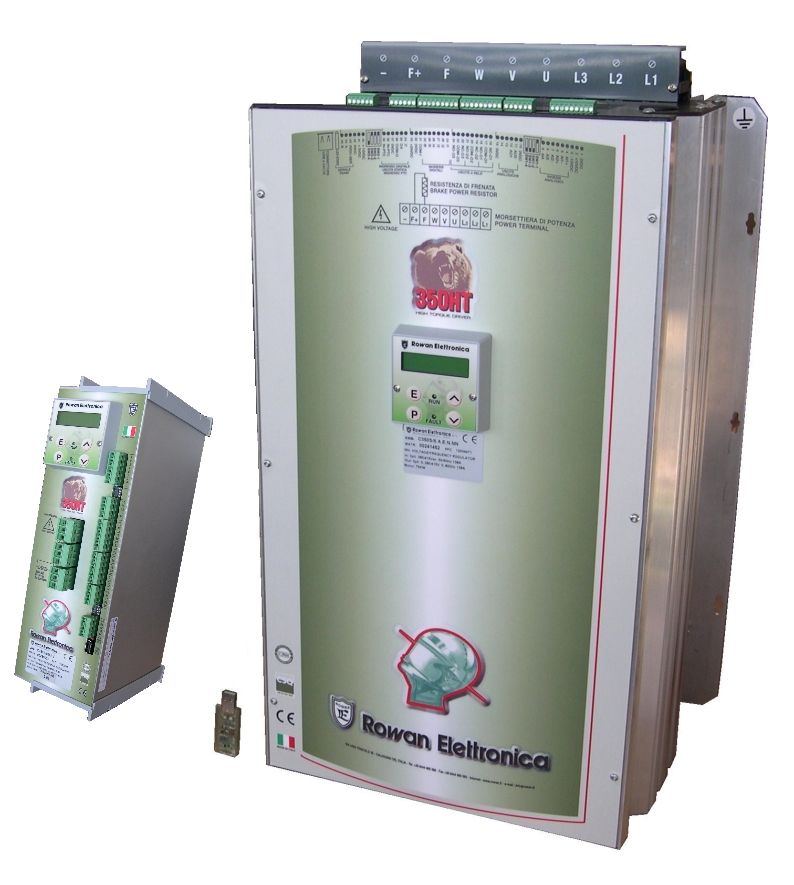 The 350 SERIES Digit Inverters are exclusively designed for the speed control of the asynchronous standard motors through the Voltage/Frequency skill, without speed feedback.
They are especially suggested when you need:
- functioning and setting simplicity
- high starting torque
- low price
GENERAL CHARACTERISTICS
Digit control by DSP microprocessor.
Simplified start-up menu (BASIC DATA) by setting those parameters strictly useful for a quick start.
Possibility of copying all parameters into two internal memories and restoring them onto job memory.
Possibility of restoring the default setting of all parameters.
Possibility of bidirectional transfer (copy / restore), through a USB port, of all the memories of parameters in an external EEPROM KEY available separately (cod. C411S.A).
Software "Rowan Key Manager" for saving the parameters of the EEPROM KEY into a file and vice versa.
Standard INPUT/OUTPUT resources (digital/analog) fully programmable, including:
7 digit inputs, 3 relay outputs, 1 static output, 4 analog inputs, 2 analog outputs, 1 input dedicated to motor PTC probe.
Keypad with remotation and customization possibility for direct use as terminal on a panel at a side of the machine (2 rows x 16 digits).
Possibility of automatic re-start after fault.
Electrical heat protection of the inverter and the braking resistance.
RS485 standard Fieldbus up to 115200 bps by MODBUS RTU.
Two motors simple selection having different output characteristics to a unique actuator.
Speed control system:
- V/F scalar control for standard asynchronous motors
- V/F linear characteristic
- HT (High Torque) control for high performances of starting torque from empty to loaded.
- loaded starting with blocked rotor obtaining the maximum torque performance.
- slow/fast overload control.
- flying start function.
- continuous current braking.
- speed setting from analog input, keypad, moto-potentiometer and 3 fixed speeds selectable from digital inputs and Modbus.
- 2 maximum speeds selectable through digital inputs.
- 2 acceleration ramps selectable through digital inputs.
- 2 deceleration ramps selectable through digital inputs.
- 1 switching threshold on the motor speed.
- REGULATOR useful for the closed loop control of the pressure on compressors, refrigerators and pumps.
See all characteristics on REGULATOR - FUNCTION ONE for C400R inverter.
Special versions on request:
350 Series inverter give many possibilities when used as:
- Frequency generator single-phase square wave up to 20KHz with settable duty cycle;
- DC feeder with polarity reverse.